Just like spay/neuter, adoption is key to creating a no-kill cat nation. Adoption gives homeless cats the life, home and love they seek. Every cat adopted helps free valuable space in rapidly filling no-kill shelters, giving more lost feline souls the chance to be found.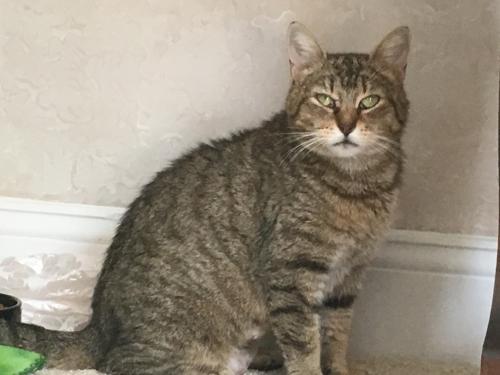 Young | Tabby & Domestic Short Hair | Female
Cinnamon was living outside a nursing home. She had juvenile babies with her and she was pregnant. We were able to get her safe inside days before the babies were born. She had 5 babies on March 22 2016 and was kind enough to take in a little orphaned calico. All her babies have found their forever homes and now she is ready to find hers. She is a bit timid at first but with just a little bit of patience and understanding her sweet and loving purrseonality will shine through!! She doesn't like sudden movements or loud noises so a home with small children may be the best thing for her. She has been many other friendly kitties and adjusts well with them and gets along with nonaggressive feline friendly dogs. Cinnamon was born around March of 2013. Spayed, microchipped, vaccinated and negative for fiv/felv.
Learn more about me
Your Adoption Day
On your adoption day, arrive at the shelter with an acceptable method of payment for your new feline friend's fee, any necessary adoption forms and a carrier. Of course, by then you'll have already read
how to prepare for cat adoption
as well as
what to expect in the first 30 days
. So let us be the first to say congratulations!