Just like spay/neuter, adoption is key to creating a no-kill cat nation. Adoption gives homeless cats the life, home and love they seek. Every cat adopted helps free valuable space in rapidly filling no-kill shelters, giving more lost feline souls the chance to be found.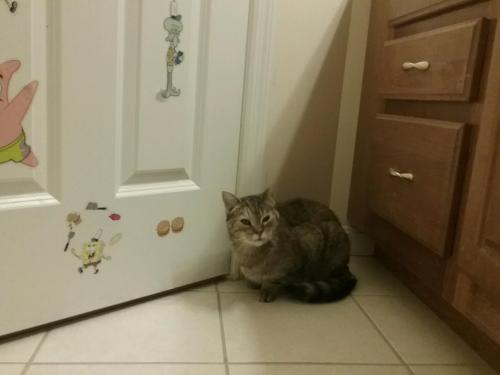 Adult | Torbie & Domestic Short Hair | Female
Stripes came to us with 3 other siblings. She was born under a bed in someones home. He called us when they were 3 months old. They had very little interaction with people as the guy left the mom cat and babies in a bedroom. We tried our hardest to work with the babies to make them used to people. Stripes' siblings were too feral to adopt out so they were made barn cats. Stripes on the other hand was too sweet to put outside. Although she is a very shy cat, she is very sweet. She is in need of a quiet home with no dogs, she gets along great with other cats though. She has spent the last several years in foster care most of the time in a ferret nation cage because her foster mom has dogs that she is afraid of and will hide. She needs eye drops twice a day for her life and she has a eye condition but with eye drops will be just fine. Purrfect Friends will supply the first 6 months of the drops. She is in desperate need of a quiet home with maybe an older couple. She will take e a little time to adjust but really needs a forever home where she can be loved on instead of spending most of her time in a cage.
She was born on Valentines day in 2011.
Learn more about me
Your Adoption Day
On your adoption day, arrive at the shelter with an acceptable method of payment for your new feline friend's fee, any necessary adoption forms and a carrier. Of course, by then you'll have already read
how to prepare for cat adoption
as well as
what to expect in the first 30 days
. So let us be the first to say congratulations!