Just like spay/neuter, adoption is key to creating a no-kill cat nation. Adoption gives homeless cats the life, home and love they seek. Every cat adopted helps free valuable space in rapidly filling no-kill shelters, giving more lost feline souls the chance to be found.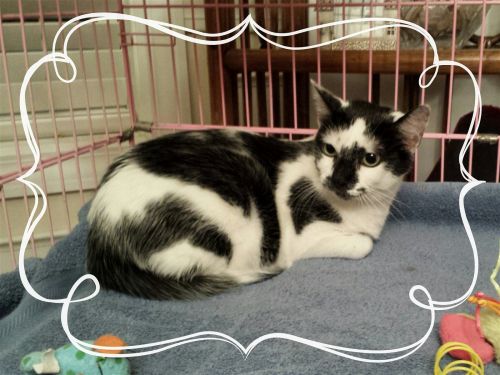 Adult | Domestic Short Hair | Male
Isn't OREO the most unique looking kitty??? His black & white spotted coloring makes him really stand out. (and then there's his one-sided curly mustache!!!)
Oreo has a calm & tolerant, easy-going purrsonality, and is very social and talkative. He likes to hide under the bedsheets and play with you while in bed; and then he loves to sleep next to you. He's about 7-8 years old, has alway been playful and active and wants to be where you are. He was initially raised with children; was very good with them and has lived with other cats and dogs. His preference would be as an only cat, as the king of his castle!
This kitty is originally from Georgia, then lived in Texas, then in Ohio. His original family couldn't afford to keep him; he had spent a good part of his earlier life living with an untreated ear infection/inflammation that became chronic. However, he's now been successfully treated for it, had a large polyp removed; and with a little bit of minor monitoring & maintenance, his ears aren't a problem anymore! Hurray! (He may need occasional ear-drop medication; and someone to keep an eye on things to be sure his ears don't get all inflamed & painful again.)
Learn more about me
Your Adoption Day
On your adoption day, arrive at the shelter with an acceptable method of payment for your new feline friend's fee, any necessary adoption forms and a carrier. Of course, by then you'll have already read
how to prepare for cat adoption
as well as
what to expect in the first 30 days
. So let us be the first to say congratulations!